The zip has been my deadliest foe ever since I started sewing. I've come to terms with the invisible zip, thanks to this tutorial from Colette  and I'm fairly confident with those now. I would have a go at inserting a centred zip without too many qualms. However, my Sew for Victory skirt (Simplicity 3688) is the first project where I've tried to insert a lapped zip. How hard could it be? *hysterical laughter*
I disregarded the pattern instructions and instead I consulted my trusty Reader's Digest Complete Guide to Sewing. Their instructions are something like this. I tried all of Saturday afternoon, but I could not get the darned thing inserted. My point of failure every time was crooked top stitching on the lapped side.
I gave up and used the method recommended by the pattern (also the method illustrated in The Sewing Book , my second most used sewing reference book). I tried all of Sunday afternoon and evening, but once again it was crooked top stitching on the lapped side letting me down. Even when I stuck masking tape on the fabric as a stitching guide, as recommended in this tutorial. Clearly, I am incapable of sewing in a straight line.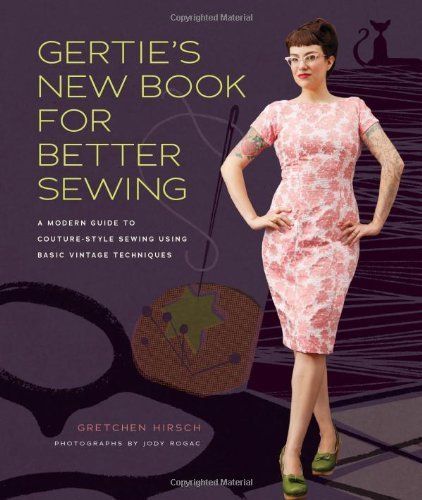 By this stage, I was ready to rip off my own arm and beat myself over the head with it through sheer frustration. Then I remembered my copy of Gertie's New Book for Better Sewing. Lapped zips are seen as a 'vintage' technique, so I thought her book might help. Gertie is my saviour. I followed her instructions for inserting a lapped zip using a sewing machine and it worked first time. The crooked top stitching on the lapped side was resolved by opening the zip and sewing from top to bottom, using the 3/8" mark on the plate as a guide. Hurrah!!!!
My top tips for beginners wanting to insert a lapped zip would be… Firstly, drink a large gin and tonic. Secondly, stick a safety pin in the lapping side before you start to help you identify which side is which whilst sewing. I had to turn the skirt inside out and back again several times and the safety pin was a handy point of reference. Thirdly, baste at every stage. I hope it will be a LOT easier next time, but I don't think I will ever get over my hatred of the zip.
Image credit: Amazon